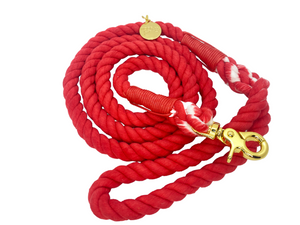 ROPE LEASH - RUBY
Meet Woof First original rope leash "RUBY". This beautiful hand-made leash is a perfect addition to your pup's wardrobe. This beautiful looking leash will give you more control and will make your daily walks more fun and enjoyable. This magnificent blue colour pairs well with various Woof First harness and waste bag holder. 
Details:
 - Leash is made with strong and durable, 100% cotton rope
 - Comes with gorgeous gold hardware finishes with matching ring for clipping waste bag holder and gold finished Woof First charm. 
 - Leash is 5 feet in length and is 0.6 " Thick
Care Instructions:
 - Gently clean with water. Hang to Dry
* All rope leash are hand-crafted, and may have slight variation in colour.